Maisel Highlights the Power of Mentoring in Science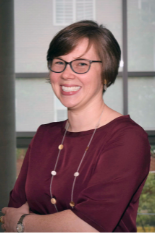 Fischell Department of Bioengineering Assistant Professor Katharina Maisel shed new light on the power of mentorship in a piece she published online today with Science. Maisel's feature is titled "How peer mentoring held me up as a junior faculty member—especially amid the pandemic."
In the feature, Maisel talks about her firsthand experiences with peer mentoring as both a student and as a junior faculty member.
"Beginning a faculty position was surprisingly lonely," she wrote. "As I was facing the challenge of learning to manage a lab, I knew I would benefit from frank discussions with colleagues who were going through something similar."
As a Ph.D. student, Maisel valued her experiences as a resident of a "living and learning" dorm community. Together with a classmate, she started the Graduate Women's Empowerment Network at her institution to deepen connections between women in the sciences.
"Without this group, I would have been lost during the last two years of my Ph.D. program," Maisel wrote.
Most recently, Maisel found support in an unlikely place – Slack. The digital platform provides Maisel – and countless others in STEM – with opportunities to connect about challenges facing those in the sciences. Maisel noted that the platform, and others like it, have proven particularly crucial during the pandemic.
"We often talk about mentoring from the top-down perspective," Maisel wrote. "But I've learned that peer mentoring—whether virtual, in-person, or both—is just as important. Find your peer network pillars and lean into them. They will hold you up during the storm."
Read Maisel's entire Science piece online.
Published October 29, 2021