Natalia Ochman Named 2019 Fulbright Grant Recipient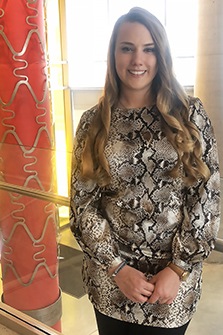 Fischell Department of Bioengineering senior Natalia Ochman was named the recipient of a Fulbright U.S. Student Program award to Poland in chemistry/biology. Ochman will support the teaching of English at the University of Bialystok as part of a 2019-20 Fulbright English Teaching Assistantship.
Established in 1946, the Fulbright U.S. Student Program is the largest U.S. exchange program offering opportunities to students and young professionals to undertake international graduate study, advanced research university teaching, and primary and secondary school teaching worldwide.
At the University of Maryland (UMD), Ochman is a member of the Integrated Life Sciences Program of the Honors College, and a recipient of the Maryland Presidential Scholarship. In her freshman year, she founded an educational nonprofit, known today as FLAME – the Foundational Learning and Mentoring Experience. Today, FLAME engages UMD students in mentoring roles with more than 100 elementary and middle school students at Title I schools.
Ochman is also a certified Emergency Medical Technician (EMT) with the Beltsville Volunteer Fire Department. She aims to build on this experience by volunteering with an ambulance company during her time in Poland.
Upon completion of her Fulbright assistantship, Ochman plans to attend medical school and later hopes to merge her medical background with teaching.
"It's been a dream of mine to go to medical school ever since I was in middle school, and I have always known that I wanted to pursue a different track from many others who would be applying," Ochman said. "I chose to major in bioengineering because I believed it would give me a very good foundation and great technical skills. I have always wanted to go into surgery, and I know that there is an overlap between medicine and technology – especially in that field. Throughout my internships – particularly in high school – I realized that there were millions of dollars of equipment sitting idle in the corners of hospitals no longer being used because those pieces of equipment weren't engineered to be user-friendly, and surgeons didn't want to learn to use the technology. My dream is to bridge that gap between the engineers and surgeons."
In time, Ochman's experiences as an EMT introduced her to what it would be like to work in the trauma ward of a hospital.
"When I became an EMT, I really fell in love with working in trauma," Ochman said. "It's what defined my goal to go to medical school and become a trauma surgeon. I really liked the experience of having to think about the entire body as a whole, not just a singular tissue or organ."
During her most strenuous EMT shifts, Ochman would work as many as 24 hours straight, squeezing in homework assignments between emergency calls. The experience was eye-opening – not simply because it exposed her to the pace and rigor intrinsic to working in trauma, but also because it helped her learn to find a work-life balance early in her academic career.
As she works toward her long-term goals, Ochman believes it's also her mission to empower others to consider opportunities in the STEM fields.
"I'm very forth-coming about the fact that it's not easy," she said. "There are classes and other instances in which it does get very difficult. There were certain bioengineering classes during which I found myself sitting there re-thinking my plans. But, I think those types of experiences just speak to your resilience."
The same can be said for working in trauma, particularly when one considers the emotional toll the job carries. Life as an EMT can vary from day to day, and it's important to acknowledge how trying some of the experiences can be, Ochman said, noting that she once responded to a suicide call involving a person she knew.
"It was one of those instances where I found myself asking, 'Can I really take this?'" Ochman said. "But, you find that you have the resilience to get through it. In the end, those types of experiences make you someone who is more empathetic to what other people are going through."
And, it is important to remember that empathy is a component of strength, not weakness, Ochman said.
In fact, she believes it is an attribute that will help carry her through her future experiences working in emergency response, medical school, and even the operating room.
Empathy is also one of the driving forces behind Ochman's decision to expand FLAME from an organization focused on empowering women and girls in STEM, to one that focuses on the needs of all underrepresented demographic groups.
In Title I Prince George's County Schools, FLAME not only introduces scientific experiments and lessons on science-related topics – it also provides a full nutritious meal to its students with the help of the Food Recovery Network. Ochman noted that 75 percent of the students had previously gone without eating a meal the entire day.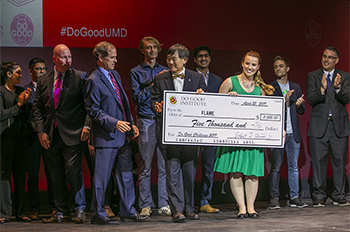 Earlier this year, FLAME was one of two UMD teams awarded first place in the 8th Annual Do Good Challenge.
Looking ahead to her Fulbright experience, Ochman is eager to get to Poland. It won't be her first time visiting the country from which both her parents emigrated. She previously completed a dual internship in the Budzik Hospital for Coma Research and the Pomnik Children's Memorial Health Institute in Warsaw. While there, she researched platforms that can be used to communicate with patients in a coma, and learned more about general surgery and organ transplantation techniques.
In addition to helping others in her ancestral country, Ochman looks forward to joining the Fulbright alumni network, which stands nearly 400,000 strong across 155 countries.
Throughout her upcoming adventures, she is excited to help recruit the next generation of scientists and engineers to the field.
"I think the future is in technology and engineering," Ochman said. "If you look at the past 15 years – at how much we've done in the medical field and in the STEM fields – just think about where we're going to go in the next 15 years. Being a part of those huge, impactful steps toward making the lives of the people in your community and in the world better… that's what STEM is all about."
Published June 15, 2019