Roy Wins ACS's Peterson Award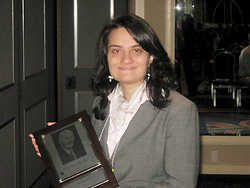 Graduate Program in Molecular and Cell Biology (MOCB) student Varnika Roy, advised by Fischell Department of Bioengineering Professor and Chair William Bentley, was presented with the American Chemical Society's (ACS) W.H. Peterson Award at the organization's national meeting in March.
Each year, two Peterson Awards are presented to the students who delivered the best oral and best poster presentations in sessions sponsored by the ACS's Division of Biochemical Technology at the previous year's meeting.
Roy received the 2010 Best Poster Presentation Award for her work, "Analogs of the Bacterial Signaling Molecule AI-2 as Quorum Quenchers."
Roy, a member of the Maryland Biochip Collaborative, works in Bentley's Biomolecular and Metabolic Engineering Laboratories, where she is involved in developing methods that can be used to interrupt cross species bacterial communication, also known as quorum sensing. This form of cell-to-cell communication relies on the production and detection of signaling molecules. When enough bacteria produce enough signaling molecules, they will respond as an organized group with a predetermined action. While sometimes the action is beneficial, it more often leads to infection or disease. Stopping the communication could shut down an infection in progress, while "tricking" bacteria into action before an actual quorum has been reached—that is, before they're organized enough to do harm—could provoke a natural immune system response capable of stopping them without the use of drugs. As an increasing number of bacteria species become resistant to antibiotics, controlling quorum sensing could prove an effective way to treat disease or lead to the next generation of antimicrobial drugs.
Much of Roy's work centers on a "universal" signaling molecule known as autoinducer 2 (AI-2), which is used by over 70 species of bacteria. In various experiments, she has been able to interrupt or encourage communications by controlling the production or suppression of AI-2. At the 2011 national meeting of the ACS, Roy reported on advances in her work in an invited presentation titled "Altering Communication Networks of Multispecies Microbial Systems by Engineering Signal Transduction."
Roy's fellow Bentley Group member, Rohan Fernandes (Ph.D. '08), won a 2007 W.H. Peterson Best Oral Presentation Award for his work on nanofactories.
Published April 11, 2011