Roy Wins Zain Award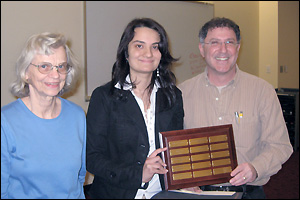 Graduate Program in Molecular and Cell Biology (MOCB) student Varnika Roy, advised by Fischell Department of Bioengineering professor and chair and MOCB affiliate professor William Bentley, has received the 2009 Zain Award in recognition of her research.
Roy works in Bentley's Biomolecular and Metabolic Engineering Laboratories, where she is involved in developing methods that can be used to interrupt cross species bacterial communication, also known as quorum sensing, which controls pathogenicity and increased virulence in many bacteria. As an increasing number of bacteria species become resistant to antibiotics, disruption of the communications that cause them to do harm could be a new and effective way to treat disease, and could also lead to the next generation of antimicrobial drugs.
Roy is also a member of the Maryland Biochip Collaborative, where she is involved in studying quorum sensing and its inhibition in a controlled microfluidic environment.
The Zain Award, named for the late Professor Zain-ul-Abedin (Department of Biochemistry), is given annually to a MOCB student from a developing country for excellence in research. Zain, who was particularly interested in molecular biology, maintained an active international research program and was a dedicated educator throughout his career. Friends and family established the Zain Award in his honor in order to assist students from developing countries pursue careers in molecular biology.
For More Information:
Visit the Biomolecular and Metabolic Engineering Laboratories web site »
Visit the Biochip Collaborative web site »
Published December 18, 2009