Russ Wins Goldwater Scholarship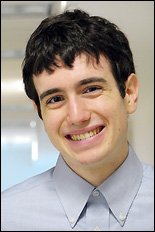 Fischell Department of Bioengineering sophomore Zachary Russ has been awarded a 2009-2010 Goldwater Scholarship, the premier national award granted to undergraduate students majoring in mathematics, natural sciences and engineering who are interested in research careers.
Created by the United States Congress in 1986 to honor Senator Barry M. Goldwater, Goldwater Scholarships are designed to ensure the nation has a source of highly qualified scholars and researchers. Recipients are chosen based on academic merit, research experience and career objectives.
Russ, who is double majoring in mathematics, intends to pursue a Ph.D. in bioengineering, conduct research in cellular engineering and bionanotechnology, and design micro- and nanoscale devices for medical application.
Russ has already received national attention for his back-to-back first place wins in the Institute of Biological Engineering's annual bioethics essay contest in 2008 and 2009.
Related Stories
"BioE Freshmen Are Finalists in Bioethics Contest" »
"Richbourg, Russ Winners in Bioethics Essay Contest" »
Published March 31, 2009