Schultheis, Researchers Investigate Low-Cost Pulse Oximeters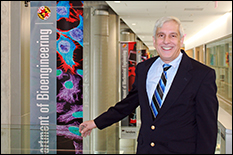 The University of Maryland Robert E. Fischell Institute for Biomedical Devices, in collaboration with the Walter Reed National Military Medical Center, recently investigated the performance of low-cost pulse oximeters, commonly used to measure the oxygen level of the blood for a variety of reasons, such as to measure the effectiveness of lung medicines or to detect whether a person might suffer from sleep apnea.
These low-cost devices differ from their higher-cost counterparts in that they have not been tested in clinical studies or accepted by the U.S. Food and Drug Administration for medical use. As such, Fischell Institute faculty member and Fischell Department of Bioengineering Research Professor Lex Schultheis and a team of researchers have worked to investigate whether consumers with breathing problems might be at risk when using pulse oximeters that have not been rigorously tested but are, to date, sold over the counter in pharmacies and on the internet.
"Direct advertising of low-cost, over-the-counter pulse oximeters to consumers can be confusing," Schultheis said, citing an example of a customer testimonial from the website of a manufacturer of a low-cost pulse oximeter that is not FDA approved. Schultheis noted that the customer believed the only difference between the advertised device versus the FDA-approved counterpart is that the former does not require a medical prescription.
Recognizing this, Schultheis and his team set out to clarify limitations of off-label use for low-cost, "over-the-counter" pulse oximeters by patients or health care providers.
"Our study was conducted as a prospective, randomized, concurrent-controlled investigation comparing hundreds of oxygen saturation measurements by various nonmedical-use pulse oximeters to one FDA-reviewed medical pulse oximeter for critically ill patients in the intensive care unit or operating room" Schultheis said.
There was no meaningful difference when patient oxygenation was in the normal range; however, when patients were not oxygenating well, nonmedical-use pulse oximeters could not reliably detect the condition, he said.
"As such, low-cost, 'over-the-counter' pulse oximeters may be adequate to rule out deficiencies in oxygenation in patients who have symptoms of shortness of breath if the oximeter is reading in the normal range," Schultheis said. "They should not, however, be used for patients whose oxygenation is borderline or may be impaired by changes in clinical condition."
Published June 7, 2018