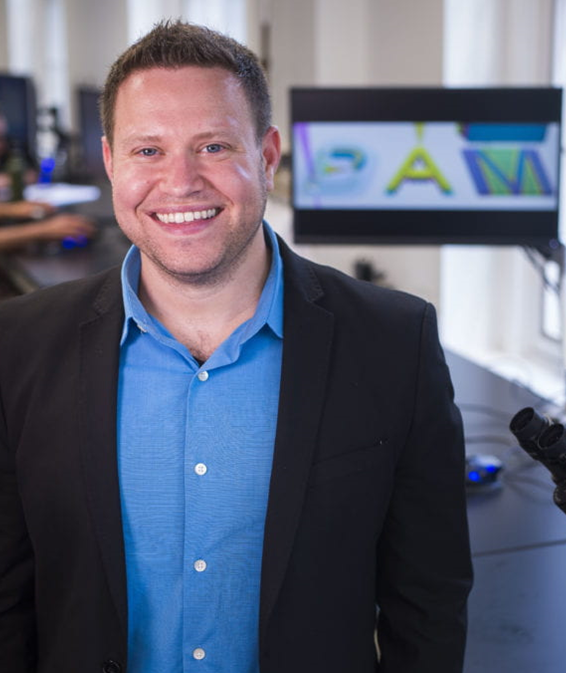 Sochol, Ryan D.
Associate Professor
Fischell Institute Fellow

Mechanical Engineering
Fischell Department of Bioengineering
Maryland Robotics Center
The Institute for Systems Research
Robert E. Fischell Institute for Biomedical Devices

2147 Glenn L. Martin Hall, Building 088

BACKGROUND
Prof. Sochol's Bioinspired Advanced Manufacturing (BAM) Laboratory creates micro/nanoscale additive manufacturing (or "3D printing") strategies to solve mechanically and physically complex engineering challenges, with a focus on biomedical applications (including those enabled by soft robotics).  Dr. Sochol is an affiliate faculty member of the Fischell Department of Bioengineering, a Fischell Institute Fellow of the Robert E. Fischell Institute for Biomedical Devices, an executive committee member of the Maryland Robotics Center, and an affiliate of the Institute for Systems Research.  Dr. Sochol currently serves as Co-President of the Mid-Atlantic Micro/Nano Alliance (MAMNA).
EDUCATION
Ph.D., University of California, Berkeley (2011)
M.S., University of California, Berkeley (2009)
B.S., Northwestern University (2006)
POSTDOCTORAL TRAINING
NIH Fellow within the Harvard-MIT Division of Health Sciences & Technology, Harvard Medical School, and Brigham & Women's Hospital
Director/Founder of the Micro Mechanical Methods for Biology (M3B) Laboratory Program within the Berkeley Sensor & Actuator Center at the University of California, Berkeley
Visiting Postdoctoral Fellow within the Institute of Industrial Science at the University of Tokyo
HONORS AND AWARDS
Micro/Nanoscale Additive Manufacturing ("3D printing")
Advanced Manufacturing & Micro/nanomanufacturing
Soft Robotics / Microrobotics / Surgical Robotics
3D Printing-Enabled Biomedical Technologies
Cell Mechanobiology & Physicobiology
Integrated Fluidic Circuitry
3D Microelectronics
Energetics
Journal Covers
Selected Journal Publications
Selected Conference Publications
The NSF Graduate Research Fellowship Program (GRFP) was established to ensure the vitality and diversity of the scientific and engineering workforce of the United States.
The competition recognizes distinguished graduate student researchers in order to help propel their careers and demonstrate the value of high-quality engineering research.
The NIH has awarded $2.7 million to a UMD/JHU/UMSOM team that will leverage machine learning and 3D printing.
Inaugural award recognizes outstanding research contribution from a scientist in the early stage of their research career.
The BIOE REU program promotes collaboration between UMD and the FDA, making it unlike any other in the country
Achievement opens the door for new advances in soft robotics.
UMD engineers demonstrate a new shape-changing nozzle that could revolutionize "4D Printing" applications.
New research could expand additive manufacturing capabilities with multiple materials at smaller sizes while offering students unique hands-on research opportunities.
UMD engineers demonstrate new approach by 3D printing a five-material DNA-inspired microstructure that is a fraction of the size of a human hair.
BIOE hosted it's largest-ever Capstone Design competition on May 10th, 2017.