BioE Welcomes 3 New Faculty Members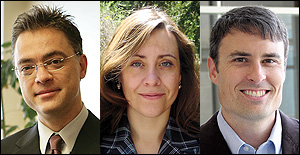 The
Fischell Department of Bioengineering
is pleased to welcome its newest faculty members, Associate Professor Elias Balaras, Assistant Professor Silvia Muro, and Assistant Professor Ian White. Muro holds a joint appointment with the University of Maryland Biotechnology Institute's (UMBI) Center for Biosystems Research.
Balaras received his Ph.D. in mechanical engineering from the Swiss Federal Institute of Technology in Lausanne, Switzerland in 1995. He came to bioengineering from the Department of Mechanical Engineering, where he had served on the faculty since 2001. He has also been an affiliate faculty member in the Graduate Program in Bioengineering since its inception. His research interests include multiscale and multiphysics modeling in physical and biological systems, applications of blood flow modeling in disease research, medical device design and surgical planning, insect flight biomechanics, and fluid–structure interactions. One of his projects, the development of a toxin sensor based on the anatomy of mayfly gills, was recently highlighted in a Clark School press release.
For Balaras, the move to bioengineering felt like a natural progression: "My research interests include a diversity of topics in scientific computing, both in algorithms and applications," he says. "Over the past several years my main focus has been on the development of modeling strategies for an array of challenging problems in medicine and biology."
Muro received her Ph.D. in molecular biology from the Autonomous University of Madrid, Spain, in 1999. Before joining the Fischell faculty, she had an extensive career in medical and biomolecular research, including postdoctoral appointments, academic appointments and fellowships in Canada, Denmark, Spain and the U.S., most recently at the University of Pennsylvania School of Medicine. She currently focuses on the delivery of therapeutics to disease sites to increase their effectiveness while minimizing their side effects. Her research program studies the fundamental mechanisms of endocytic vesicular transport that operate in living systems and translational parameters pertinent to the design of nano-scale therapeutics, to optimize their delivery to precise targets at the sub-cellular level and, as a result, their therapeutic potential.
"UMBI and the Fischell Department of Bioengineering represent ideal environments for the development of my research interests," she says, "by providing me with a unique opportunity to incorporate more biotechnological and engineering approaches to my program. I hope to be able to enhance even further the integration of these disciplines with life and medical sciences."
White received his Ph.D. in electrical engineering from Stanford University in 2002. Before joining the faculty, he was a photonic test engineer for Onetta, Inc., a developer and manufacturer of optical modules and subsystems for optical network equipment, and a principal technical staff member focusing on optical transmission at Sprint Advanced Technology Labs. He was also appointed to a postdoctoral fellowship in the Department of Biological Engineering at the University of Missouri–Columbia, where he developed sensing platforms based on photonics and nanotechnology. Currently, he is developing biosensing tools for the study and analysis of disease at the molecular level. His goal is to integrate photonic technologies into lab-on-a-chip platforms for high-throughput, low-cost biomolecular analysis.
"I am extremely excited to join the Clark School," he says, "because of the number of potential collaborations throughout bioengineering, mechanical engineering, and electrical engineering in areas such as biosensing, microfluidics development, and device integration."
Published August 27, 2008