Muro Wins $1.72M National Institutes of Health R01 Grant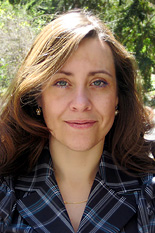 Assistant Professor Silvia Muro (joint, Fischell Department of Bioengineering [BioE] and University of Maryland Biotechnology Institute) has been awarded a $1.72 million, 5-year National Institutes of Health (NIH) Research Project Grant to develop new therapies for the treatment of rare genetic diseases that affect the lungs and brain. The Research Project Grant Program, also known as R01, is the NIH's oldest and one of its most prestigious. It funds investigator-initiated, health-oriented research that supports the mission of the NIH.
Because they are uncommon, genetic disorders have a disproportionately high cost of treatment. While our ability to detect and diagnose them has improved, in many cases safe and effective treatments for the diseases they cause are not yet available.
"Progress has long been hampered by the fact that treating genetic diseases is perceived by some to be 'unprofitable,'" says Muro, "so support of non-profit federal, academic, and private organizations developing new therapies is crucial. As insurance companies consider the high cost of suboptimal treatments for these often chronic or fatal conditions, which average $100,000 a year per person, patients may be in danger of not getting the help they desperately need."
Muro and her research group have chosen to focus on the treatment of lysosomal storage disorders, which are triggered by one of the most common types of genetic defects in humans and can result in more than 40 life-threatening diseases.
A lysosome is a hollow, spherical cell organelle (an organ-like unit within the cell wall) that contains enzymes (specialized proteins that accelerate or enable chemical reactions). Lysosomes are designed to break down the lipids (fats), carbohydrates, and other proteins cells require for food, making them easier to digest. They can also break down viruses ingested by the cell, other organelles that are "old" or damaged, or the cell itself when it dies.
Lysosomal storage diseases are those in which a genetic defect results in a shortage or absence of a particular enzyme the lysosomes need in order to function. In one example, Niemann-Pick disease, this deficiency leaves the body unable to digest a certain kind of lipid, which builds up in the cells until they rupture and die, ultimately leading to major organ failure. Children born with Niemann-Pick disease typically do not survive to adulthood.
Currently, lysosomal diseases can be treated with enzyme replacement therapy (ERT), but success has been limited. "In the decade since its clinical implementation, it's become apparent that ERT's effectiveness is restricted to a few diseases that affect the liver, spleen, and kidneys," Muro explains. "We haven't yet perfected enzyme delivery to and into the tissues of the heart, lungs, and brain." Her group is developing patent-pending technology that will provide more controlled, precise and efficient treatments by exploiting the natural transport pathways these organs use to move molecules into their tissues. Because their research in part focuses on the difficulty of moving therapeutics across the blood-brain barrier, their results could one day also be applied to diseases that affect the central nervous system.
"Our hope is to prolong and improve the quality of life for patients and their families, and also alleviate the economic burden on the healthcare system," Muro says.
BioE Professor and Chair William Bentley says Muro's grant is another great example of what can be accomplished by Clark School faculty. "R01s are the most relevant grants given by the NIH to individual labs, and they're usually won by established investigators," he says. "That Silvia's proposal, originally submitted only seven months after she joined our faculty, was accepted on its first submission without requests for revisions, is a wonderful and difficult accomplishment. I hope it encourages all of our young faculty to put themselves out there and promote their work."
For More Information:
Visit Professor Muro's homepage »
Published April 9, 2010