Fernandes Wins ACS's Peterson Award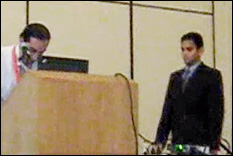 "Rohan is in many respects a renaissance engineer."
Fischell Department of Bioengineering (BioE) graduate student Rohan Fernandes, advised by BioE Professor and Chair William Bentley, has won the American Chemical Society's (ACS) Peterson Award. The award, sponsored by Invitrogen (a worldwide provider of products and services to the biotechnology and pharmaceutical fields), is given to the student who delivers the best oral presentation among the Biochemical Technology Division speakers at ACS's annual meeting.
Fernandes won for his talk, "Nanofactories for Synthesis and Delivery of Signaling Molecules: A Tool for Engineering Metabolism."
Nanofactories, which were first conceived of at the Clark School, are ingested biochemical machines that act like cells. Once inside the body, they could detect a bacterial infection, produce a medication using the body's own materials, and deliver a dose directly to the bacteria. The drug would do its work only at the infection site, reducing or eliminating the side effects that may arise when an antibiotic travels throughout the body in search of infections.
"This is the most coveted award for young engineers in the field," says Bentley of the honor. "It's typically won by students from MIT, Caltech, Stanford and Berkeley. Rohan is the first student from Maryland to have received this recognition."
Bentley also explains why he feels Fernandes is a standout: "Rohan is in many respects a renaissance engineer. His formal training was in chemical engineering, where he learned the core of the discipline. He's made a tremendous transition to bioengineering, where he's used his innate creativity and his particularly acute sensitivity to detail to devise an entirely new concept of a nanofactory which combines reactions, transport, and biological recognition in one clever miniature package."
Related Story:
Clark School Press Release: "Side Effects May Not Include…"
For More Information:
Visit the Division of Biochemical Technology of the American Chemical Society web site »
Published September 8, 2008