Gray Named 2014 Fischell Fellow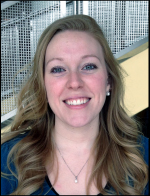 The Fischell Department of Bioengineering (BioE) is pleased to announce the newest recipient of the Fischell Fellowship in Biomedical Engineering, graduate student Kelsey Gray. Gray was officially introduced as the 2014 Fischell Fellow at the eighth Fischell Festival, held in late October.
The Fischell Fellowship is awarded annually to talented and innovative graduate students interested in applied research and product design in the biomedical industry.
Gray recently joined Assistant Professor Kimberly Stroka's Cell and Microenvironment Engineering Lab and said her goal as a Ph.D. student is to develop a blood-brain barrier-on-a-chip that will ultimately have a significant clinical impact. Design of this model will provide a wide variety of opportunity for scientific advancement - from understanding fundamental biological phenomenon to drug development and screening. This model could be used in the context of various diseases involving blood-brain barrier dysfunction—cancer, Alzheimer's, Parkinson's, multiple sclerosis, and more—as well as in a healthy context, studying the ability of new drugs to cross the barrier.
"My plan is to use a minimalistic and interdisciplinary approach to develop model systems that reduce costs and maximize feasibility so technologies are widely accessible and applicable to a large number of scenarios. Use of model systems provides minimized in vivo work—which is often expensive and time-consuming—allowing for resource conservation and shorter development times, with the hope of increasing the drug discovery rate and availability to patients in need," Gray said, adding that multidisciplinary research teams are key in bridging the science and engineering gap.
"Being awarded the Fischell Fellowship will provide me with the opportunity to contribute to the translation of innovative technology into universal, widely accessible medical advances."
Gray graduated from the University of Delaware in 2012 with a B.S. in chemical engineering and minors in bioechemical engineering and biomedical engineering. After graduating, Gray accepted a Technical Professional Development program position with a generic injectable pharmaceutical manufacturing company in North Carolina. The program allowed entry-level engineers like Gray to rotate through different technical positions to gain a fundamental and diverse understanding of engineering in pharmaceuticals. Additionally, Gray gained experience with current Good Manufacturing Practices (cGMP), First Pass Quality and Exception Reports.
"[The experience] taught me about the important expectations of regulatory agencies and the struggles of manufacturing facilities to meet these expectations while producing lifesaving medicine for patients that is also affordable," she said. "I gained irreplaceable insight into manufacturing practices, which helped me better understand not only the long-term result of scientific research, but also the challenges of translating pilot scale technology into a mass-produced, clinically-used drug or device."
As a biochemical engineering research intern with BioE Professor Gregory Payne's (joint, Institute for Bioscience and Biotechnology Research) laboratory, Gray worked on an industry-university team developing immunosensors for point-of-care diagnostics, and gained experience translating academic research into medical technology.
"Seeing my intellectual curiosity transform into tangible data with the potential to translate into a useful medical device has made a lasting impression on me," Gray said. "It has motivated me to make meaningful and realistic contributions toward medical advances."
During the summer of 2010, Gray was granted a unique opportunity, funded through the National Science Foundation Emerging Frontiers in Research Innovation, to travel to France on behalf of Professor Payne's group to initiate a nascent collaboration with a research team at the Université Claude Bernard Lyon 1.
Additionally, Gray's work in Payne's lab has resulted in several publications for the Fischell Fellow.
Outside the lab, Gray is a mentor for both Wheaton High School and Elizabeth Seton High School students, and a member of the International Society for Pharmaceutical Engineers, Phi Sigma Pi National Honor Fraternity, and the National Society of Collegiate Scholars. She also participates in various community service activities benefiting the Leukemia and Lymphoma Society, North Carolina State University Engineering Outreach Camp, UD K-12 Outreach, and the Habitat for Humanity – Collegiate Challenge. In her free time, she enjoys DIY projects, trying new foods, and boating on the Chesapeake Bay.
Published November 14, 2014