Herold Helps Solar House Team Shine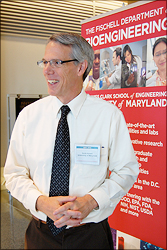 The University of Maryland's entry in the
Department of Energy's 2011 Solar Decathlon
, a solar-powered, water conserving home inspired by the Chesapeake Bay ecosystem, is currently battling for first place several days into the competition being held in West Potomac Park in Washington, D.C. The home, called
WaterShed
, was designed and built by over 200 students from an array of schools, majors, and disciplines. The students of Team Maryland were guided in their efforts by a dedicated group of university professors, including Fischell Department of Bioengineering (BioE) associate professor Keith Herold.
Over the past two years, Herold, who served as the Faculty Advisor from Engineering, worked with a group of 20-30 students who played a key role in the design, construction and operation of the WaterShed house.
"I got involved because I enjoy working with students, and because this project ties in with the energy system work I did for many years prior to joining BioE," he says. The long hours and long meetings, he adds, were offset by working with students he describes as "some of our best and brightest."
"[Working on the Solar Decathlon team] is a great opportunity for students to learn in a more realistic environment than a traditional classroom," he says. "A multidisciplinary project like this requires many perspectives and it is a challenge to appreciate them all."
Herold cites WaterShed's liquid desiccant system and overall design that integrates the conservation and production of resources, particularly in the collection and handling of water, as features which make the home unique among the field of entries. WaterShed is described by Team Maryland on its web site as "…a micro-scale ecosystem, emulating the environment of the Chesapeake Bay watershed" in which plants in the landscaping, on the green roof, and in the garden are "part of the house['s] living systems, which produce food and store, purify, and manage water."
Learn More:
Visit the WaterShed web site »
You can also find WaterShed on Facebook, Twitter, YouTube, Flickr, and Tmblr.
Visit the Department of Energy's Solar Decathlon web site »
Visit Professor Herold's homepage »
Published September 28, 2011