Herold Edits 2 Vol. Book on Biosensors, Biodetection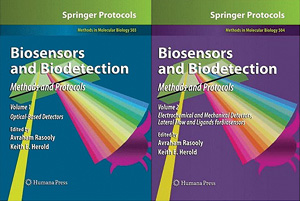 Fischell Department of Bioengineering (BioE) associate professor Keith Herold is an editor of and contributor to a new 2-volume work on biosensors and biodetection, which will represent the newest offering in the Methods in Molecular Biology series of books. Avraham Rasooly (National Cancer Institute, FDA) is Herold's co-editor. Both volumes are published by Humana Press.
Biosensors and Biodetection: Methods and Protocols, Volume 1: Optical-Based Detectors and Biosensors and Biodetection: Methods and Protocols, Volume 2: Electrochemical and Mechanical Detectors, Lateral Flow and Ligands for Biosensors cover the latest information on and techniques for the development and application of biological recognition elements and signal conversion technology for use in biodetection systems. Volume 1 focuses on optical topics, including direct and indirect optical sensors, CCDs, surface plasmon resonance, and spectrometers, while Volume 2 discusses direct and indirect measurement sensors and ligands, including the implementation of electrochemical detectors, antibodies, peptides, and aptamers. The books are intended for scientists in engineering, clinical, biological, chemical or physics research, including students, who want to develop an understanding of the types and elements of biosensors, and the technologies behind them, from an experimental perspective.
Herold co-authored two chapters: "A Simple Portable Electroluminescence Illumination Based CCD Detector" in Volume 1, and "Rapid DNA Amplification Using a Battery-powered Thin-Film Resistive Thermocycler (TFRT)" in Volume 2. BioE assistant professor Ian White also authored a chapter in Volume 2, titled "Label-Free Detection with the Liquid Core Optical Ring Resonator Sensing Platform."
Visit Professor Herold's homepage »
View Biosensors and Biodetection: Methods and Protocols, Volume 1: Optical-Based Detectors on Amazon.com »
View Biosensors and Biodetection: Methods and Protocols, Volume 2: Electrochemical and Mechanical Detectors, Lateral Flow and Ligands for Biosensors on Amazon.com »
Published January 9, 2009