John Schardt Awarded American Association of Pharmaceutical Sciences Fellowship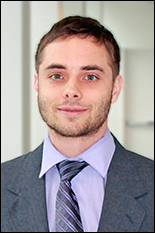 Fischell Department of Bioengineering graduate student John Schardt was named a 2017 American Association of Pharmaceutical Scientists (AAPS) Foundation Graduate Student Fellowship recipient. The AAPS Foundation, which fields applications for the prestigious fellowship from all over the world, recognized five students for their recent work in the pharmaceutical sciences.
Schardt, a member of BIOE assistant professor Steven Jay's Biotherapeutic Development and Delivery Laboratory, is focusing on the design of novel multivalent protein therapeutics that target HER3, a receptor protein molecule commonly implicated in cancer progression.
HER3 is what is known as a receptor tyrosine kinase, a type of cell surface receptor known to play a key role in both normal cellular processes – like growth and metabolism – and in the progression of a variety of cancers, including ovarian, prostate, lung, and breast. Along with Jay and Dr. Stanley Lipkowitz of the National Cancer Institute, Schardt helped pioneer a strategy to inhibit HER3 signaling in cancer through a process referred to as "HER3 sequestration."
The team's technique involves engineering multivalent HER3 ligands to trap HER3 into configurations that prevent its interaction with other receptors necessary for initiating pro-neoplastic signaling.
Schardt, Jay, Lipkowitz, and fellow researchers have also shown that engineered multivalent HER3 affibodies – small proteins engineered to bind to a large number of target proteins or peptides with high affinity – reduce cancer cell survival more effectively than monovalent versions of the same affibodies. In contrast to monovalent versions, the multivalent ligands induce rapid and prolonged HER3 downregulation in numerous cancer cell lines.
"Overall, my thesis work to date highlights the promises of engineered multivalency for enhanced efficacy of HER3-targeted affibodies against a variety of cancers, and establishes the potential of this strategy for broad utility in myriad anticancer applications," Schardt said.
Schardt, the 2015 recipient of a joint University of Maryland-National Cancer Institute Cancer Research Training Fellowship, hopes to one day run an independent research laboratory that combines experimental and computational approaches toward the discovery and development of novel protein-based pharmaceuticals aimed at targeting cancer and other pathologies.
A recent AAPS blog post by Schardt and Jay further details the group's recent findings.
Published June 12, 2017