Tostanoski Receives NSF Graduate Research Fellowship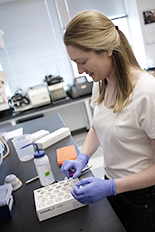 Second-year Ph.D. student Lisa Tostanoski, a member of BioE assistant professor Christopher Jewell's research group, was recently awarded a $132,000 National Science Foundation (NSF) Graduate Research Fellowship for her work designing therapeutic vaccines to induce immunological tolerance for the treatment of autoimmune disorders.
Most recently, Tostanoski has worked on generating specific therapeutics for multiple sclerosis (MS), an autoimmune disease that affects 2.5 million people worldwide and has no known cure. MS causes the immune system to unpredictably attack a nerve-insulating protein called myelin as if it were a foreign invader, disrupting communications throughout the central nervous system. Sufferers may experience a wide variety of mild to debilitating symptoms, including vision problems, pain, weakness, loss of balance and concentration, and numbness.
Many of the typical clinical interventions today rely on general immune suppression, which has proven effective—but, these treatment options can leave patients immunocompromised, Tostanoski noted.
Knowing this, she and members of the Jewell research team are working to apply biomaterial strategies to enhance current therapies by regulating the way in which the body responds to self molecules such as myelin. In particular, Tostanoski has focused her efforts on designing polymer coatings that incorporate myelin, along with regulatory immune signals that, when delivered together in biomaterials, could help control MS without broad immunosuppression.
"I'm really excited that the research could potentially have a lot of implications for the treatment of autoimmune diseases," Tostanoski said. "The NSF Fellowship provides opportunities to promote dissemination of our work, not just through scientists and journal articles, but also through outreach programs."
Tostanoski noted that, in addition to work done in the lab, the lab has an extensive outreach program with high school students interested in bioengineering that has given her an opportunity to become involved in mentoring. Lisa also plans to connect with the local chapter of the National Multiple Sclerosis Society to build awareness of the disease and promote the involvement of researchers from non-traditional backgrounds
"I'm grateful for Dr. Jewell's guidance, and I received a lot of support on campus through some of the available resources for fellowship applications and from other graduate students," she said. "It's been a great experience."
Dr. Jewell noted that "Lisa is a talented and meticulous engineer, who couldn't be more deserving of the NSF fellowship."
Published April 14, 2014