Bracaglia, Melchiorri Awarded American Heart Association Predoctoral Fellowships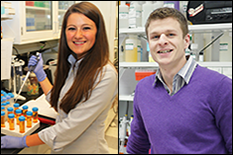 Fischell Department of Bioengineering graduate students Laura Bracaglia and Anthony Melchiorri were each awarded a two-year, $50,000 Predoctoral Fellowship from the American Heart Association (AHA). The fellowship is designed to help students initiate careers in cardiovascular and stroke research.
Both Bracaglia and Melchiorri are members of BioE Professor John Fisher's Tissue Engineering & Biomaterials Laboratory.
Bracaglia's recent research has focused on the development of a novel hybrid material for use in cardiovascular applications. The goal of her work is to develop a renewable, living material, grown from an implantable prosthetic heart valve or vascular patch.
"Many of the challenges faced in current cardiovascular therapy stem from the materials available for implantation, and so developments in this area could eliminate re-stenosis, calcification and repeated surgeries, as well as improve healing and maintenance of the injured or diseased site," Bracaglia said.
A second-year Ph.D. student, Bracaglia has worked a great deal with pericardium based biomaterials.
"The coupling of synthetic polymers to the pericardium allows us to control characteristics without permanently altering or damaging the tissue," she said. "We have previously shown that, by avoiding the traditional approach of chemically crosslinking tissue, we can expect significantly less calcification on the material."
Right now, Bracaglia and fellow researchers are developing a method of controlled drug release from the polymer into the pericardium for the purpose of designed cellular response.
"Receiving the fellowship allows us to hear feedback on the significance of the proposed work and progress from third-party experts in the field of cardiovascular therapy," Bracaglia noted. "It's exciting to hear that the work merits funding in the eyes of a prominent institution like the AHA."
Melchiorri's recent research has focused on the development of a polymer-based material resin for 3D printing of medical implants and devices.
One of the greatest challenges associated with 3D printing medical implants is that materials used need to be biodegradable, biocompatible and supportive of cell and tissue growth while degrading over time. Recognizing this, Melchiorri, a third-year Ph.D. student and 2011 Fischell Fellow, has helped develop a polymer-based material resin that possesses properties desirable for 3D printing of medical devices and implants, such as vascular grafts and other tissue-engineered materials.
Once implanted, the graft supports and serves as a template for the growth of blood vessel tissue. Its mechanical properties, strength and elasticity mimic those of actual blood vessels. And, because the specially printed graft is biodegradable, the patient's own tissue replaces it over time.
Even more, because the grafts are produced on a 3D printer loaded with the special polymer, every patient can have one custom-made before surgery.
This flexibility, Melchiorri explained, makes the polymer-based material resin an especially strong candidate for 3D printing of medical devices for the treatment of congenital heart defects, which affect one percent of all live births.
"Because the grafts our lab has developed are biodegradable and take advantage of some of the tissue engineering paradigms, over time, the tissue that grows on the grafts will take over and replace the grafts, and the grafts themselves will disappear," Melchiorri said. "This eliminates the need for future surgeries. For example, in the case of a child with a congenital heart defect, instead of having to perform surgery on that child to replace a permanent graft every time he or she grows, the graft would just disappear over time, thus eliminating the need for future surgeries."
As such, Melchiorri's research remains closely aligned with the AHA mission.
"I'm particularly excited to have received the American Heart Association fellowship award because of the AHA's relationship with cardiovascular disease research and education," Melchiorri said. "Since my Ph.D. research is intimately related to the AHA's mission of 'building healthier lives, free of cardiovascular disease and stroke,' it's great for the organization to recognize our work and it's great to know that they consider our 3D printing research for congenital heart disease a worthwhile endeavor."
Published August 20, 2014