Fisher Co-Edits Book on Tissue Engineering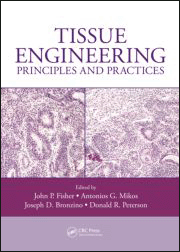 Fischell Department of Bioengineering (BioE) professor and associate chair
John Fisher
is the co-editor of and contributor to a new book titled
Tissue Engineering: Principles and Practices,
available from CRC Press.
The book's three sections, "Fundamentals," "Enabling Technologies," and "Applications" are designed to guide readers through the field, covering the latest opinions and research on topics including nanobiomaterials, stem cells, biomimetics, cartilage and dental tissue, gene therapy, artificial organs, and cellular, vascular and neural engineering. The book also provides information on the materials and techniques used in regenerative medicine, such as scaffolding, drug delivery systems, and bioreactors. Contributors have been drawn from clinical practice, academia and industry.
Fisher, the director of the Tissue Engineering and Biomaterials Laboratory, contributed two chapters: "Signal Expression in Engineered Tissues," with his advisee, BioE graduate student Martha Wang, and "Cartilage Tissue Engineering" with former advisee Emily Coates (Ph.D. '12).
BioE associate professor and Cell Biophysics Laboratory director Helim Aranda-Espinoza, together with former group members Leann Norman (Ph.D. '10) and Kim Stroka (Ph.D. '10) also contributed a chapter, titled "Biomaterial Mechanics."
Published July 3, 2013