Projects Come Together at Capstone II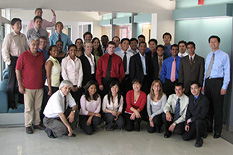 Bioengineering students majoring in Biological Resources Engineering gathered for the presentation of the projects that represented the completion of their undergraduate experience at the Capstone II finale May 11, 2007.
Capstone, a two-part course taken in the fall and spring semesters of senior year, is one of the most important parts of the Clark School's engineering program. In it, teams of students utilize what they have learned throughout their undergraduate studies to create their own engineering designs from concept to product. At last semester's (Fall 2006) Capstone I presentations, eight teams presented their visions for a wide range of products that could be produced to serve the needs of doctors, patients, researchers, human health, and society. Now, at the conclusion of Capstone II (Spring 2007), the seniors presented the results of their research and testing, outlined challenges and successes, and demonstrated their prototypes.
Our seniors would like to thank their faculty mentors (listed with their Capstone teams below); lab staff including Melvin Hill, Ali Jamshidi, and Gary Seibel for guidance, time, and labor; administrative staff members Sandra Huskamp and Karen Lasher for help with financial support and purchasing; Professor and Fischell Department of Bioengineering Chair William Bentley; and friends in outside academia and industry for the advice and supplies they donated that helped these projects succeed.
2007 Capstone II Teams and Projects
Team 1: Portable EKG Monitoring System: For Wireless Monitoring and Arrhythmia Detection
Traci Berkman, Jeff Hsieh, Jesse Hwang, and Jie Sun
Mentor: Professor Yang Tao
Team 1 proposed a new means of monitoring patients for early signs of heart trouble. Their device monitors a patient's electrocardiogram (ECG, EKG), a record of the heart's electrical activity, and could inform both the patient and medical personnel via a wireless device if a problem is detected.
EKGs measured while a person is at rest can be misleading, because it does not reflect the heart's activity during a daily routine. EKGs can also be read while a patient is exercising, but this must be done in a clinical setting, and within a limited timeframe. Current "holster monitors" carried by a patient must be brought into a doctor's office to have their data read.
Team 1's approach was to use a combination of disposable transcutaneous electrodes, reusable wire and a belt pack to feed EKG data wirelessly to a PDA as the patient goes about his or her daily business. The device monitors for two kinds of arrhythmia, and is capable of e-mailing the patient and the doctor at the first signs of trouble. The team conducted a live demonstration using one of their members, and discussed the challenges of perfecting the system using PDAs, software and hardware currently on the market.
Team 2: Design of an In-line Potassium Concentration Sensor with Regulated Mixing of Dialysate Solution
Joe Glazer, Nicole Sutherland, and Ross Watzman
Faculty mentor: Professor Adel Shirmohammadi in Cooperation with Dr. Gary Briefel, M.D., Chief, Division of Renal Medicine Chairman, JHMI IRB#5, Johns Hopkins Bayview Medical Center
Team 2 hopes to address a problem seen in patients receiving hemodialysis for kidney failure: Currently, an unknown quantity of potassium is removed from the blood being filtered, along with other waste products. While having too much potassium in the blood is a natural result of kidney failure and creates a dangerous situation for the patient, the accidental removal of too much potassium can cause muscle weakness, seizures, arrhythmia, and even sudden death. Team 2's device is a sensor and software combination that monitors potassium levels in the blood as dialysis occurs, and is capable of making adjustments to maintain a healthy potassium level in the patient. The goal is to create a linear decrease in potassium levels during dialysis, rather than an exponential one. The team built a model of their equipment, and to avoid using blood or a patient created their own dialysate solution, which they then used to demonstrate their ability to monitor and correct potassium levels.
The team and their faculty mentors presented their project to the faculty, physicians, and medical interns at the Johns Hopkins Bayview Medical Center on May 25, 2007. Their project was a welcome sign for the physicians performing hemodialysis for patients with kidney failure.
Team 3: Portable Bacterial Medium Sterilization System
Daniel Forrest, Kevin Knapstein, and Elena Tous
Faculty mentor: Professor Hubert Montas
Controlling growth and contamination in bacterial medium (nutritional environments used for culturing, often liquids or gels) is crucial to many experiments and studies in the lab, such as the development of new vaccines and in genetic recombination. Team 3's objectives were to create a portable, affordable device that could be used to sterilize media anywhere with a standard electrical outlet, particularly in small, underequipped facilities. Their device, based on a pressure-cooker, could enable many more labs to participate in the growth of biotechnology research.
Team 4: Cooling System for a Cast Removal Saw
Daniel Habete, Jonathan Keung, Parth Modi, and Niket Patel
Faculty mentor: Associate Professor Elias Balaras
When a patient visits a doctor to have a cast removed, a saw is used to cut away the plaster. Within only 30 seconds of proper use, the saw's blade can reach temperatures of 150 degrees Fahrenheit—heat which is transferred into the cast itself and is hot enough to cause second- or third-degree burns to the skin. Team 4's goal was to create an easy-to-operate accessory that could be attached to cast saws, keeping their blades at temperatures below 100 degrees using vapor cooling and live temperature monitoring.
Although the prototype was a unique, custom-built tool, the team demonstrated its concepts were effective by showing a video in which they used their saw on a test cast, first without the cooling system turned on, and then with it activated when a special marker on the device indicated the temperature was getting dangerously high. Using an infrared thermometer, they tracked the saw's temperature, demonstrating their cooling system kept the blade well below 100 degrees—even below 80 degrees.
Team 5: VAPORCOOL SYSTEMS: Evaporative Cooler Food Storage Device For a Hungry World
Trevor Eddy, Phil Edwards, Netsanet Hailu, Jeffrey Lee, and Ekene Okorie
Faculty mentor: Professor Adel Shirmohammadi
How do you preserve food where there is no electricity? How can you sell more of your crops before they spoil? Team 5 searched for a way to improve on the zeer pot, a simple but effective evaporative cooling device used in some parts of Africa. The pot is actually two clay pots with a lid, one inside the other, with insulating wet sand between them. It is a form of refrigeration that requires no electricity and extends the storage life of produce.
Team 5 is out to make a good idea even better by using more hygienic materials, providing even more cooling for food products and medicine, and improving portability. Their device design includes a runoff/drip pan to catch and recycle water, wheels so it does not have to be carried, a more durable metal inner chamber, and a hand-cranked fan to boost ventilation and supplement temperature reduction. The group tested their design in the University's greenhouse facilities, where they could simulate specific temperature and humidity conditions.
Team 6: Automated Pill Dispenser
Isham Khan, Yue-Hin Loke, Alex Nguyen, and McKenzie Primerano
Faculty mentor: Professor Adel Shirmohammadi
With an ever-increasing population of elderly and ill patients living longer than ever before, Team 6 turned their attention toward helping them maintain their daily medication regimens. Their objectives were to design an easy-to-use, cost-effective device that could accommodate and dispense pills of any size and shape, provide reminders to patients, and be easily programmed by a pharmacist or caregiver using little more than a barcode on the prescriptions' labels.
Team 6's prototype device used a combination of sensors and actuators, vibrators, and stepper motors, controlled by a software interface, to dispense the correct pills in the correct quantities and combinations, and at the right times. After each pill type is loaded separately into one of the device's chambers, the caregiver enters the prescription and dosage information via a software interface, which also links to WebMD in the event more drug information is needed. The software then instructs the dispensing device, which in turn provides an alert for the patient each time their medication is ready.
Team 7: Back Brace With Heat Therapy for Back Pain Sufferers
Anthony Metzger, Marjan Nabili, Alpa Sheladia, and Selam Wubu
Faculty mentor: Assistant Professor Adam Hsieh
Millions of people suffer from back pain. Team 7's goal was to help alleviate people's pain through the design of an improved back brace. Many current braces are either too rigid and bulky to be worn comfortably, or too flexible to provide support. Team 7's objective was to create a cost-effective, comfortable, customizable treatment option that would decrease lumbar stress and deliver both compression and heat therapy.
Choosing the right materials for the brace was important: Which fabrics would be most comfortable, breathable, and form fitting? What kinds of plastics were best for support elements? What would make good heat-retaining pads without the need to be plugged in? As the team manufactured their prototype, they referred to lumbar stress models, and examined people's postures and angle of displacement between their shoulders and hips while wearing and not wearing the brace. Microwavable heating elements made out of flax seed-filled pouches were inserted into pockets throughout the brace, while rods made of three different types of plastic—each with their own properties—could also be inserted into at various points to customize the level of support and flexibility desired.
Team 8: A Simultaneous Heating and Cooling Device for Food
Magda Benavides, Galen Joneja, Jane Kim, and Khine Lwin
Faculty mentor: Associate Professor Keith Herold
Food-borne illnesses are a serious problem, and are often caused by improper storage. Keeping food hot enough or cold enough in transport or until it's ready to be consumed can be a hassle. Team 8's solution is to develop the ultimate lunchbox: a portable container simultaneously capable of heating and cooling food in separate compartments. The group's objectives were to create a device small enough and light enough for a person to carry on a typical work or school day, to maintain safe temperatures, and to use a rechargeable battery.
The team created a container slightly over 2lbs. and not much larger than a common, square-shaped insulated lunch bag. Using a well-insulated divider between the compartments, several rechargeable batteries, a thermoelectric heat pump, and a collection of heat sinks, they were able to create a temperature gradient, concentrating the heat in one compartment while cooling the other. The two sides of the prototype safely maintained their temperatures for about 6 hours—long enough to preserve a lunch packed at breakfast time.
We are proud of our seniors' accomplishments and wish them all the best! We're sure innovative engineers like these will succeed wherever they go.
Published June 5, 2007