Getting Ahead of Alzheimer's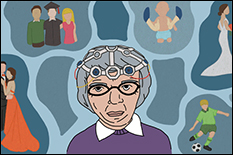 BY CHARLIE WRIGHT '17 | ILLUSTRATION BY STEFFANIE ESPAT '15
This story was originally published in Terp.
Chris Look '20 was a preschooler when he saw his mother reduced to tears because her grandmother could no longer recognize her. He didn't understand then that his great-grandmother suffered from Alzheimer's disease, from which she died a few years later.
Today, Look and five other University of Maryland engineering students are determined to assist people like his great-grandmother by developing a device to detect the onset of Alzheimer's that is cheaper and more portable than current methods.
The team is trying to raise $5,000 by March 30 on LaunchUMD, the university's crowdfunding site, to continue work on a helmet that produces brain scans that can be analyzed using machine-learning algorithms—a type of artificial intelligence—to process reams of data and identify brain biomarkers that signal Alzheimer's.
"We want to find differences between patients who might have Alzheimer's versus normal patients by looking at certain biomarkers that only Alzheimer's patients have—looking at those differences in brain signals and using that to diagnose Alzheimer's," says Megha Guggari '20, one of Look's research partners.
The disease affects more than 44 million people worldwide. Computerized tomography (CT) and magnetic resonance imaging (MRI) scans are the primary forms of screening, but these tests are lengthy and expensive, compared to the simpler electroencephalogram (EEG) procedure the students have focused on.
"We're updating the existing EEG technology from big machines to making it something that is the size of a laptop," says Dhruv Patel '20.
Diagnosis in the early stage of the disease may be a key to effective treatment, but Alzheimer's warning signs aren't usually detected until the disease is more advanced.
"If you give it to retirement homes and retirement communities, you can give them regular check-ups with this device," says Look. "You can procedurally and systematically check for it instead of waiting for signs to occur."
Only 20 to 50 percent of Alzheimer's patients in developed countries are ever diagnosed, Guggari says. That number falls to 10 percent in low-income nations, which is why the team is working to keep costs down.
A portion of its funds will go to further research into the biomarkers that signal the warning signs of the disease, as well as filing for patents and purchasing waveform analytic software.
In addition to developing the helmet, some of the funds the students raise will support further research to identify specific biomarkers that signal the oncoming disease, as well as filing for patents and purchasing software to analyze EEG data.
Patel says the group is on track to develop a fully working prototype by the end of May. The next step will be to pursue FDA trials, which it expects to take four to six months, followed by commercial development of the system.
Published April 1, 2017