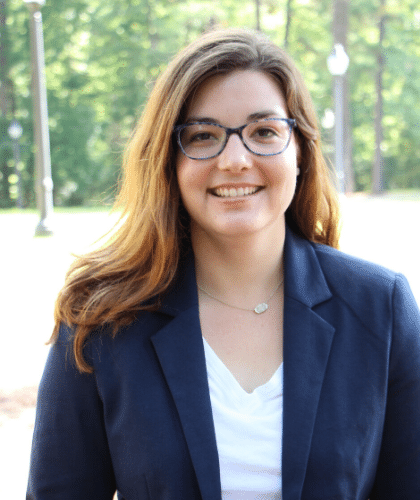 Mueller, Jenna
Assistant Professor

Fischell Department of Bioengineering
Robert E. Fischell Institute for Biomedical Devices

Dr. Mueller joined the University of Maryland in August 2020. Her interdisciplinary training combines optical imaging, image processing, ablative therapies, and human-centered design to develop biomedical devices to solve challenges in global health. She received her bachelor's degree in bioengineering with a minor in global health technologies from Rice University, and received both an M.S. and Ph.D. in biomedical engineering at Duke University for her work developing optical systems and automated algorithms to improve the accuracy of cancer excision during surgery. Prior to joining BIOE, Dr. Mueller was a Postdoctoral Associate at Duke University where she worked with a multidisciplinary team to develop the Pocket colposcope, a low-cost, portable device to screen women for cervical pre-cancer at the primary care setting and conducted studies to demonstrate its impact in 1,000 women in eight countries. She is also spearheading a new program to develop low-cost therapeutics for cervical pre-cancer and received a K99/R00 award from the NCI to do large animal trials before moving to patient studies. Dr. Mueller's lab is focused on developing translational low-cost diagnostic and therapeutic technologies to improve the management of cervical cancer and other cancers in the United States and in low and middle-income countries (LMICs). Specifically, her lab uses engineering design methods, rapid prototyping and fabrication, multiple optical imaging methods, chemical ablation, bench testing, and small and large animal models to develop and evaluate biomedical technologies for cancer management.
Pronouns: she/her/hers
Biomedical devices for global health
Optical imaging
Image processing
Ablative therapies
Cervical cancer
Human-centered design
The program
teaches students how to transition innovative medical device concepts into great businesses
On May 8, 2023, 24 teams presented novel designs at the BIOE Capstone Design Competition.
Mueller's expertise is in developing low-cost biomedical devices to increase access to healthcare, particularly in low-income communities.
The Bioengineering Senior Capstone Design competition returned to in-person on Monday, May 2.
Chen is a junior in the Fischell Department of Bioengineering.
Jenna Mueller is working to improve access for patients in the US and low-and middle income countries.
BIOE seniors present 23 novel Capstone projects live via Gatherly.
Six undergrads were recognized for outstanding achievements and contributions to the department and field.
BIOE Assistant Professor Jenna Mueller and her lab are working to improve access to surgery around the world.
Catherine Kuo, Jenna Mueller welcomed into BIOE as associate professor and assistant professor, respectively.