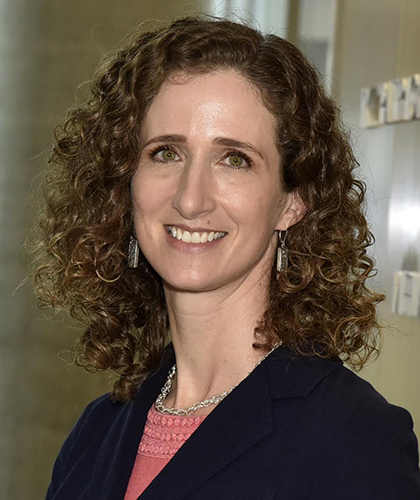 Clyne, Alisa Morss
Professor
Associate Chair, Diversity, Equity, and Inclusion
Fischell Fellow
ADVANCE Professor

Fischell Department of Bioengineering
Brain and Behavior Institute
Robert E. Fischell Institute for Biomedical Devices

4224 A. James Clark Hall

Ph.D., Medical and Mechanical Engineering, Massachusetts Institute of Technology 
M.S., Mechanical Engineering, University of Cincinnati

B.S., Mechanical Engineering, Stanford University 
Dr. Clyne is director of the Vascular Kinetics Laboratory, which unravels the complexity of vascular diseases ranging from the very common (atherosclerosis, Alzheimer's disease) to the very rare (Niemann Pick). She is particularly interested in how altered blood flow (e.g., during exercise or at an arterial bifurcation) and altered blood metabolites (e.g., high glucose in diabetes) contribute to disease in people from diverse backgrounds. The laboratory uses 3D in vitro systems, computational models, and animal and human studies to discover fundamental biological mechanisms, which then enable innovative vascular disease therapies.
Dr. Clyne is a fellow of the American Society of Mechanical Engineering  (ASME), Biomedical Engineering Society (BMES), American Heart Association (AHA), and the American Institute for Medical and Biological Engineering (AIMBE). She received the NSF CAREER award in 2008, an AHA National Scientist Development Grant in 2010, and the BMES-CMBE Rising Star award in 2011. Her research and educational innovations are funded by NSF, NIH, AHA, and the Department of Education. She is proud of receiving the Elizabeth Bingham mentoring award from the Association for Women in Science in recognition of her life-long efforts to promote diversity in science and engineering.
Dr. Clyne's Vascular Kinetics Laboratory conducts research at the interface of engineering, biochemistry, and vascular biology. In their prior work, the group largely focused on how an altered glucose environment (e.g., in diabetes) impaired endothelial cell response to shear stress and cyclic strain. Dr. Clyne and her lab have demonstrated that endothelial cells in high glucose do not respond appropriately to mechanical stimuli. Today, the group focuses primarily on the opposite question: how the mechanical environment affects endothelial cell glucose metabolism. They are integrating mechanobiology and metabolism, with the hope of using metabolic engineering to decrease the burden of cardiovascular disease and cancer. With new collaboration opportunities at the University of Maryland, Dr. Clyne and her lab group plan to extend their cell and animal work into human studies.
Laminar and disturbed flow effects on endothelial glucose metabolism
Computational models of endothelial glucose metabolism
Impaired endothelial mechanosensing in pulmonary arterial hypertension
Arterial stiffness in spinal cord injury
Perfusion effects on cancer metabolism
Vascular glucose transport in traumatic brain injury and Alzheimer's disease
Pressure myography-on-a-chip
Energy Fields to Control Mitochondrial Metabolism
American Heart Association
American Institute for Medical and Biological Engineering
American Society of Mechanical Engineers